Yoga pants and leggings are popular fashion staples that have become essential clothing in many wardrobes. These clothing items are comfortable, versatile, and easy to wear. However, many people use the terms "yoga pants" and "leggings" interchangeably, even though the two have some critical differences.
This blog will explore the most crucial difference between yoga pants vs leggings.
Yoga Pants vs. Leggings: The Most Important Difference
The most significant difference between yoga pants and leggings is their intended use. Yoga pants are designed specifically for yoga practice, while leggings are more versatile and can be worn for various activities.
Yoga pants are typically made from a thicker, more supportive fabric that allows maximum flexibility and movement during yoga poses. They usually have a high waistband that can be folded down or worn up to provide extra support and coverage.
Additionally, yoga pants often have gussets or reinforced seams to prevent tearing and ensure durability during strenuous yoga movements.
On the other hand, leggings are generally made from a thinner, stretchy fabric designed to fit snugly against the body. They are often worn as fashion items and come in various styles, including patterned, printed, and solid colors.
Leggings can be worn for various activities, including yoga, but they may provide a different level of support and durability than yoga pants.
Another significant difference between yoga pants and leggings is the length. Yoga pants are typically longer than leggings, reaching down to the ankle or even past it.
This length provides extra coverage and support during yoga poses. Conversely, leggings can vary in length, with some styles ending above the ankle or mid-calf.
Yoga pants vs. leggings
Yoga Pants: What Makes them Different from Leggings
The first point you might prefer in yoga pants is that they surely are great athletic and flexible. Stretching movements are easy to perform because of the materials used. They are polyester, elastane, or maybe spandex. These fabrics are strong enough to serve you long, and at the same time, the sweat-wicking and moisture characteristics of yoga pants make them always look nice, and attractive.
No one will notice sweat stains near the waist or near the crotch, which will certainly determine the choice of those girls who tend to sweat in spite of whether the workout is very intensive and time-consuming or not.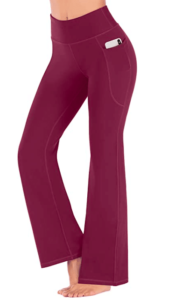 Second, a wide waistband could help you keep your tummy bulge hidden, which will surely make you more relaxed but more concentrated on the exercises. Trusting your yoga pants is a great option, which gives you a chance to be involved in your workout absolutely, not being distracted by the necessity to check your reflection every other minute.
Yoga pants come well with bra parts that you like to be tight, and the entire image is to correspond to the highest standards.
Third, remember such valuable features of yoga pants as contouring, and compression, and the ability to breathe and stretch (almost without limits).
Leggings do have positive characteristics as well. But they are not, maybe, as numerous as yoga pants have. So, keep these ideas about yoga pants vs leggings in mind when you go shopping for your activewear.
Our Favorite Brands Of Yoga Pants
There is no lack of brands that offer yoga pants but they can be expensive and you ought to be certain that you're investing in prime quality solutions. With that said, below are a couple of of the best choices:
Leggings: What Makes them Different from Yoga Pants
Traditional yoga pants are as a rule tight at the top. And slightly flared at the bottom.
What makes leggings different from yoga trousers is that they are not so thick and loose from time to time. Surely, there may be various models, but carefully check all characteristics before you pay. Although stretchy, leggings do not give the same compression and do not make your shape countered as much as yoga pants.
What else, sometimes short sports tops are not there to come with leggings because they do not have high waistbands. Leggings can be worn mostly with longer tunics or dresses because them is often not opaque.
Our Favorite Brands For Leggings
Virtually every clothes company delivers a lineup of leggings nowadays so it can be tough to select. That said, those that we have here are the best picks and have proven to be dependable:
Leggings and Yoga Pants Details
Although yoga pants and leggings areoften described under one heading in those articles, fashion-wearing touches upon such an area as fitness clothing.
The main focus for pants is on a female athletic body shape, comfort, and legs, looking attractive and thus more motivating to go on with your practice to become thin and stylish in your activewear.
Such casual wear shall be soft but thick enough to look opaque. On the other hand, yoga class is a kind of performance that shows how much you are stretchy, flexible, and yoga-advanced!
Shape revealing and tight-fitting is what women often like, but their clothing shall be of a proper length, emphasize their tiny waist, and be that showing their taste in fashion.
Transparent materials or fabrics that are not stretchy enough or provide a looser fit or – the worst thing – make women look unmeritorious are unacceptable, in most cases at least.
Purpose to Use
You know tights (usually made of cotton), as well as the first leggings, had the same original aim, i.e. to be used to make women feel warmer. Both of them lost much vs yoga pants' modern models that can easily stretch, flatter the figure, and have slim waists, are not so thick and soft, but meet fashion demands.
Now their scope of everyday use has become wider, and leggings could successfully make your style more interesting and noticeable, could help you feel awesome during your yoga class, and shape your wonderful figure thinner when you have worn them and go out.
The Main Things to Remember
As yoga pants are designed for sport, some peculiarities are essential. The waistband is made of two layers to keep them tight and support the tummy. The gusseted crotch is another thing that is totally essential because it will save girls from accidentally breaking their pants in spits.
A more loose outfit is available. This could be great if the climate is too hot, and the main aim is not losing weight but getting relaxation and the serenity yoga provides.
Hippie or harem pants, for instance, are loose down from the waist while skinny pants are tight from the waist to the ankle and give women the feeling of having a second stretching skin.
Material, Length, Styles, etc.
Various fabric like cotton, bamboo, elastane, or polyester is available for legging production.
Combined with a dress or a long top, legging yoga pants are a great alternative to ordinary everyday wear.
However, one option that makes some women choose pants not leggings for the gym is the latter does not make the tummy look as slim as you may dream, because yoga pants and leggings provide a different degree of compression, the former winning in this competition.
Design for Yoga Pants vs Leggings
The significant difference between yoga pants is that they could take various forms and designs, such as Capri-like or ankle length. They could have good moisture-wicking quality and be sweatpants. So, unlike leggings yoga pants cannot be used with any style a girl prefers.
Sometimes yoga pants fit only sports environments. As for pants in leggings design, they may be applied for other sports (not only yoga), but running or workout, for example. Leggings are of different and various types as yoga pants are, and you may easily search for some favorite colors or shades in online stores.
Yoga Leggings: a New Option
Skintight but stylish and having an original design to meet all tastes such yoga pants leggings could become a good substitute for traditional yoga pants and could eliminate some drawbacks females always keep in mind but some manufacturers leave without attention when producing yoga leggings or yoga pants, especially for the most active girls always wearing yoga pants during workout sessions.
Although the difference between yoga pants and yoga leggings on the market is minimal nowadays, there are some very basic things that cannot be skipped.
Some Intimate Differences between Yoga Pants
For yoga wear thicker and more stretching materials such as cotton with nylon or polyester are oftentimes used. Almost any physical activities make our muscles and body work intensively. And although wearing short tops or yoga leggings is not considered vulgar or provocative, it is much more pleasant for the girl herself and for those who surround her when all her looks are quite decent.
So, yoga pants that are not only convenient but look authentically and do not demonstrate sweaty spots or a camel toe are to be preferred.
Conclusion:
In conclusion, although yoga pants and leggings may look similar, they are designed for different purposes. Yoga pants are designed for yoga practice, providing maximum flexibility, support, and durability.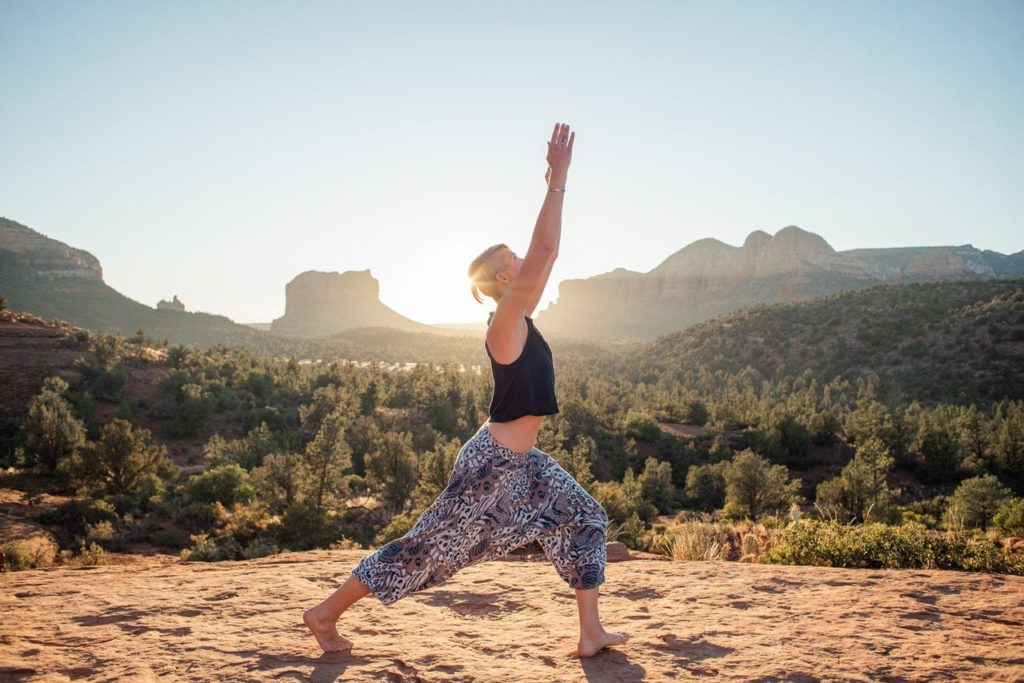 On the other hand, leggings are more versatile and can be worn for various activities, including yoga. However, they may provide a different level of support and durability than yoga pants. Understanding the differences between these two types of pants can help you choose the correct clothing item for your needs and preferences.
I hope this article will help you weigh both advantages and disadvantages of yoga pants vs leggings and spend your finance wisely!
And you will have a leg to stand on related to your marvelous image in yoga wear you feel happy with!
If you purchase any items using one of my affiliate links, I may earn some commission at no extra cost to you.  Thanks a lot for helping my site grow! Learn more
You can read also: Slow Flow Yoga: Benefits of 2021